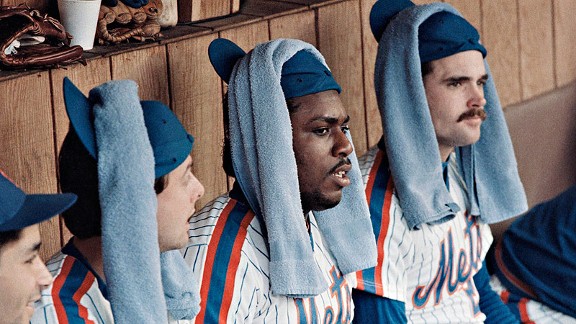 (above: The Fun Loving 86 Mets)





METS START SEASON PERFECT!


Exuberant new 2012 squad gains a 3-O sweep, on the road, over a talented Dodgers team.
GAME ONE:
A Spencer-Nick rivalry aint a Spencer-Nick rivalry without a low-scoring, extra innings pitcher's dual and game provided just that. Mat Latos and Yovanni Gallardo each dueled 7+ innings, leaving a tied game for the bullpens to sort out. The Big Panda, Pablo Sandoval, untied the game in the top of 11 off reliever Ryan Madsen on a base-shot after a Matt Holliday (3x5 on the day), one-out double. Sandoval actually drove in both runs, plating Nyjer Morgan in the first. Drew Storen and J.J. Putz eached pitched two perfect innings for the Mets. In the loss, Albert Pujols collected three hits and Carlos Ruiz added two, despite being injured for 5 games on a fouled-tip.
NICK 2, SPENCER 1
W- Putz, L- Madsen
GAME TWO:
Tied 3-3 in the seventh, Chase Utley drove in a two-run double that proved to be the difference in a game two, 8-5 win. The Mets added two more runs in the eighth on, wildly enough, two triples, one from the newly-bearded Joey Votto and another from pinch hitter Bryan "Lacy" Peterson). Off to a great 2012 start, Pablo Sandoval blasted a three-run homer in first. For Spencer, Carlos Beltran went 2x3 with a homer and Danny Espinosa also hit a round-tripper. Christian Martinez was roughed-up in one inning of work, but collected the win, while Drew Storen shut the door.
NICK 8, SPENCER 5
W - Martinez, L - Melancon, SV - Storen
GAME THREE:
For a couple seasons, many PTP owners have avoided lefties all-together until recently when, of course, Fish said it was okay. Lemmings! Game three's 11-2 drubbing may get the "right-right-right" camp even more fuel for the fire. Southpaw Cole Hammels was abused for eight earned, lasting just two innings, while right-hander (and WIAC grad) Jordan Zimmerman sailed to a win. Beard-convert Joey Votto had five hits (record?) and a walk. Lefty killer, Mark Kotsay, added three hits. Each starter had at least one hit. For Spencer, John Buck had two hits and Dee Gordon drove in a run with a double. Aaron Harang, professional mopper, tossed an effective seven innings in relief.
NICK 11, SPENCER 2
W - Zimmerman, L - Hamels